2010 - 2011 News
CHEEKY ROBINS SURPRISE ABEL TASMAN BIRDSONG TRUST
Document added 2nd September 2011
The official welcome for new residents of Adele Island, off the Abel Tasman National Park, planned for Saturday August 13, was thwarted when a full contingent of South Island Robins from Canaan Downs proved so friendly, they were all captured by midday on Tuesday August 9, ready to be transferred to their new home.
Volunteers from the Abel Tasman Birdsong Trust, under the supervision of Department of Conservation, had planned to spend four days capturing 12 Robins from the Canaan region to be released onto Adele Island in time for the breeding season. However, subtle techniques were not required and 14 birds were caught in the first morning.
Department of Conservation Area Manager, Martin Rodd, decided it would be best to release the birds that day, rather than risk leaving them in cages. A transfer was arranged on Tuesday evening, with a karakia performed by volunteers from local iwi.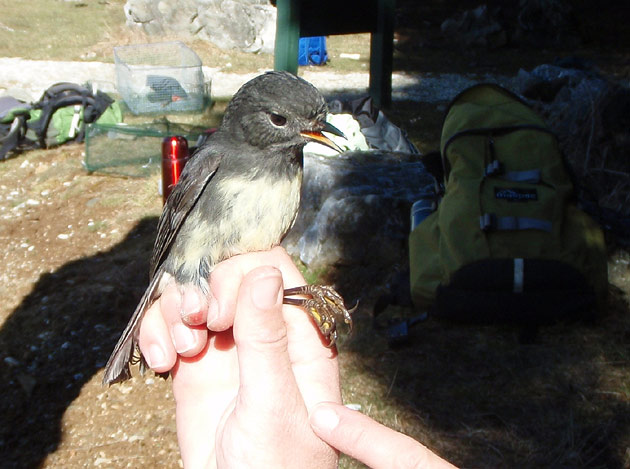 South Island Robins from Canaan Downs released on Adele Island, August 2011
A population of 31 Robins, released onto Adele Island in 2009 after the island was declared predator-free, have been breeding successfully. It was decided to introduce more Robins to the island to strengthen the gene pool and ensure the Robins continue to thrive.
To reduce the risk of predators swimming to the island from the mainland, and to increase the chances of survival for birds migrating from the island to the mainland, Abel Tasman Birdsong Trust volunteers are maintaining trap lines from Marahau, along the shore of the Astrolabe Roadstead, to Anchorage.
Founding Abel Tasman Birdsong Trust Member, Darryl Wilson says, "It's great to see the hard work of the volunteers rewarded with successes like the Robin transfers to Adele Island. Anyone in the vicinity of the island can witness the achievement of the Trust's aim to reawaken the forest with bird song."
Press release originally published 12 August 2011
---
Tree Planting at Pitt Head
Document added 23rd August 2011
A glorious day greeted the twelve Abel Tasman Birdsong Trust volunteers last Saturday as they boarded the Sea Shuttle boat from Kaiteriteri to Te Puketea Bay to plant 50 Northern Rata trees donated by Project Crimson.
Trees were grown by Titoki Nursary in Brightwater as part of a project to plant 200 rata along the coast from Awaroa to Pitt Head. The site chosen was just above Te Puketea Bay where rata prefer the steep slopes just above the waters edge. Iwi came along and started the day with a karakia to ensure we had a safe journey and return. The digging was easy and the trees were all in the ground within a couple of hours.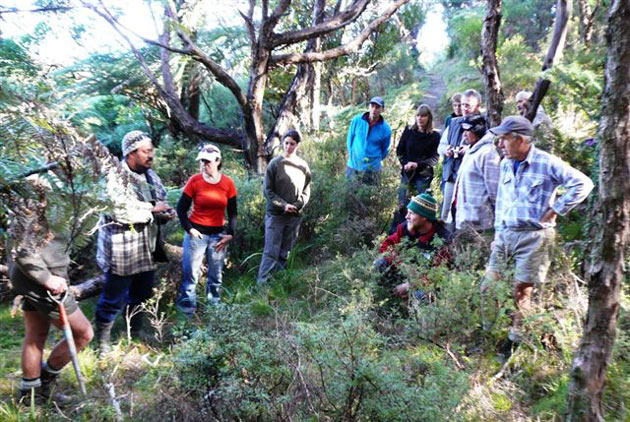 Blessing of the trees prior to planting
Volunteers also checked out trees planted last year on Pitt Head that seemed to be thriving in their new homes.
---
Robin Catch & Release
Document added 19th August 2011
A group consisting of DOC., Iwi, and Abel Tasman Birdsong volunteers spent a very pleasant day catching robins for translocation to Adele island to increase the genetic diversity of those already released. There is little challenge in catching these birds who practically beg to be caught, a tasty treat on a cold morning might be hard to resist. Wandering through the bush waiting for our small friends to demand the reason for our presence on their property takes most of the time.
Even after the indignity of tagging, taking a blood sample, treatment for internal and external parasites and measurements they remain undaunted and feisty. A robin at the car park was well aware of the poor unfortunates hanging in bags in the trees awaiting processing or in the boxes and took exception to this unauthorized trespass. He loudly voiced his property rights for the entire time the other birds were there, some four hours, giving a rapid send off to one bird that was released and periodically eyeballing the captive audience.
We left mid afternoon, no doubt to the relief of his vocal chords, for Adele Island where we were greeted by a juvenile robin as if in greeting for the newcomers. In truth that most likely turned to mortification as an invasion of grumpy birds burst forth ready to blame whoever was nearest.
---
Update from Volunteer Coordinator Tom Horn
Document added 2nd August 2011
Dear Birdsong Volunteers,
I am back on deck.
As mentioned in the newsletter we have placed 8 stoat boxes in the Tinline Nature Walk, those traps will be T 1 to T 8 ( T for Tinline). We are extending the existing line across the causeway and around the adjacent wetland to the left of the causeway with the permission of The Barn Backpackers and further towards and down the left bank of the Marahau River. We have placed four traps so far with more to be added. Those traps will be numbered M 1 to currently M 5 (M for Marahau). In areas where we have more than two traps and added further rattraps please add the first letter after the trap number ( S for stoat box, R for rattrap and P for possum trap) indicating the type of trap, please make those changes when recording out in the field when you want to differentiate between traps. Now onto the results.
The 17 July check revealed lots of rats caught and three stoats after along pause, even managed to catch two possum after weeks of nil catch and licked off lure.
The check was done by Brian and Anthea, Georgina and Zoe ( our new volunteer! ), Alan and Robyn, transport for Georgina and Zoe was provided by Aquataxi. Many thanks to all involved, especially to Georgina for showing Zoe 'the ropes'.
Trap check 17 July 2011, first check of M 2 to M 5 : M 4 stoat, O rat, 2 rat, 3 rat, 7 stoat, 25 stoat, 26 R rat, 27 R rat, 27 S rat, 30 R rat, 33 rat, 40 possum, 41 rat, 4 rat, 63 possum, 70 rat, 73 rat, 74 rat, Totals : 13 rats, 3 stoats, and two possums.
For the records/observations: 8 bait gone, 19 sprung and bait gone, 42 possum trap out of commission, 55 bait present but moved, 69 S trap too sensitive ? 78 bait present but moved, 63 P trap found downhill with caught possum devoured.
The check this last weekend came up with quite a different picture, with fewer rats, no stoats and more possums caught. The check was done by Moppy and Peter, Robert, Tom and Georgina. Thanks to Aquataxi for providing a lift.
Trap check 31 July 2011, first check of T 1 to T 8: T 8 rat, 11 rat, 27 S rat, 27 R rat, 32 possum, 40 possum, 52 possum, 53 rat, 57 rat, 71 rat, 74 possum. Total : 7 rats, no stoats, 4 possums. Running totals: 379 rats, 55 stoats, 52 possums and three mice.
For the records/observations : M 2 sprung, T 2 out of commission, T 3 T4 T 5 T 6 bait gone, 42P trap out of commission, 50 P shroud attacked by rats, 51 S relocated closer to possumtrap, 52 P possum partly eaten. Section 26 to 51 seem to have a bit more lure present between 0 and 20%. Checked 4 possumtraps 2 nights after reluring, had about 60% of lure licked off. Lure on traps 26 to 30 which have added rat traps is 70 % present.
And finally, I claimed earlier that the check six weeks ago broke a record. Well It didn't. The record still stands from May 21 2009 with 29 rats caught. Thanks for keeping an eye on figures Jim.
---
Birdsong Volunteer Newspage Winter 2011
Document added 19th July 2011
Its about time to have a bit of an update on whats going on in the Birdsong realm.
The main project which keeps us volunteers busy is the Marahau to Akersten Bay stoat line; a defence line to keep stoats off Adele and Fishermans Islands which are our local Bird Sanctuaries. There has been quite a bit of activity on that line, apart from emerging from trap checks quite dirty due to the wet weather lately.
As you know trap stations 26 to 80 had tree mounted possum traps added in February, attracting possums via a scented non toxic lure paste into the 'business end' of the trap. Well after a while the traps turned out to be involuntary feeding stations for rats, often licking the lure off the lure holder on the first night. Subsequently our possum kill dropped to almost zero after a promising start and friends of Flora were beginning to notice the same problem.
Subsequently Allan mounted a infra red camera loaned from DOC and sure enough the 'rat footage' was rather convincing. In a first response Allen has placed eight rat traps armed with the same attractive possum lure near the possum traps at stations 26 to 29 to stop rats from getting to the possum trap and they are catching rats indeed.
While this experiment will be going on for a while three lure holders have been modified to contain wicks which cannot be licked off. A third response could be to attach a hard bait to the lure holder it self. Over time we are sure we will find a way to dispel the rat problem and have well lured possum traps. Any volunteers will be informed of any changes to traps before going out into the field.
On the more proactive side new traps have been added to the line. Last weekend the very scenic Tinline Bay Nature Walk has been included and eight stoat boxes ( T1 to T8) are are now in place, they will be armed today. The Nature Walk is the one of the few bush remnants nearby with a lovely stand of mature Rimu. One stoatbox (M2) has been placed on private land to the left of the Abel Tasman Entrance sign past the causeway next to the mature Kahikatea tree, while trap 0 is now called M1. Three stoatboxes (M3, M4, M5) have been placed under the bridges of the causeway to intercept any stoats using the causeway. Sure enough almost immediately one stoat has been caught. They need to be opened with a scewdriver to protect the public.
Further traps (M6 and so on) will be placed continuing from the causeway to Marahau Bridge down the western bank of the Marahau River towards the sea. Some of those areas are prone to flooding and access by the public, which means the positions will need to be well considered.
Once this extension is in place we will have created an entire new section. The new section will probably be called Marahau - Tinline section, encompassing all Marahau traps (marked M) and all eight Tinline traps (marked T) This will keep the section # 1 to # 25 unchanged.
While the stoat line is receiving the bulk of attention in this newsletter other items are equally as important( if not more so). They are part of the broad picture the Birdsong Trust shares to increase Biodiversity at the southern end of the Abel Tasman National Park in general.
Wilding Pines
The Trust has recognized the wilding pines to be one of the biggest ecological threats of this end of the National Park, apart from being visually detractive. A lot of effort has been put into eradication research and secondly to find money to put a eradication program into place and running it.
The trust about to announce that the funding has been secured. It means that all wilding pines be they coastal or further inland will be poisoned by contractors, like it was done along the Queen Charlotte Sound.
Tree planting
As some of you know another 'big picture goal' is to create a Mainland Island on Pitt Head, which is the Headland between Te Pukatea Bay and Anchorage.
The Birdsong Trust has applied for a save rat eradication campaign next year, involving rat poison. Once most rats (and stoats) have been eliminated from that area another 'stoat- rat-possum line' will need to be created to protect that area long term. In the meantime, and here is a date for your calendar, we will plant more trees on August the 20th. The planting party will leave in the morning by boat and exact details will be announced by the Trust soon. All but one of the previously planted trees have survived and its time for more to be added.
Tunnel tracking
Four weeks ago three teams of volunteers activated the six tunnel tracking lines between Torrent and Akersten Bay over three days. At this point again many thanks to all those involved in this fun filled bush bashing exercise. This monitoring work is about finding out how many predators are present in this area and more directly how many of those inhabit the future Pitt Head predator free area. Allan has done a preliminary report which I yet have to send out to you!
Bird release Adele Island Bird sanctuary
The South Island Robins released last year are doing well and are breeding. We will release another batch S. I. Robins from a different gene pool this spring. The date has not been announced yet, watch this space ! The Ornithological Society is conducting bird counts on the Island twice every year. Once results are known we will pass them on to all volunteers.
Stoat boxes for sale
Thanks to Allan, Birdsong is now producing its own stoat boxes! We would like to complement the Marahau end of the stoatline with traps on private land. If you live near the start of the track or know of some one keen to participate within this location please let me know. The stoat box sells at $65 ready to go.
This was all the news I could collect (and remember).
I want to mention that I feel very humbled by the unwaivering support of the volunteers. We now have about 25 active people in the field and at least 40 (and growing) on the email list. Just lately we have had several new volunteers joining us unexpectedly, and I think we are able to to handle the extension of the present stoat line plus a further section at Te Pukatea Bay next year. Equally without the constant and loyal support of the local watertaxi operators we would not be able to achieve our goal at all.
Footnote: I'd like to conclude this newsletter with the hope that you do not mind to come across the odd piece of 'imprecise grammar' or punctuation
---
Stoatline
Document added 8th February 2011
Its been busy to say the least. All eggs have now been replaced with Erayze rabbit bait. There are no more egg cartons to carry and packs to be rinsed out again! Many thanks to Ewings again for donating all those eggs.
To go by the last trap check, which was the first done with rabbit bait, it seems that rats are responding well to the new bait, but time will tell. The sentinel possum traps which were introduced in December have certainly 'upped the ante', as far as work on the line concerned.
We are continuously fine tuning their location. They need to be well away from the public yet accessible and visible to us volunteers and need to align well with the stoat boxes. The lack of suitable trees makes their placement challenging at times and we did have one serious fall.
We will cut a few more steps to make access easier and safer for the steep sites. The wasp season has started and they seem to be particular fond of dead possums.
A long stick is needed to lift the carcass away from where it fell and the wasps to release the remains. Where trap and possum did not fall to the ground its even harder to avoid unwanted wasp attention. More time and care is now needed to run the line and more volunteers still need to be trained to service the possum traps. Stay well covered up and if allergic to wasp put antihistamin into your Pack. The first section from # 1 to # 25 will have no possum traps at this stage, we simply don't have suitable trees to mount them on. This is now the 'easy trap check section' for volunteers who prefer to 'keep it simple' (and don't mind the gorse.)
The trap overlap at the end of the line with the Torrent Bay group will remain, it doesn't create too much confusion and the access point at Cythea Cove is too good to give up.
We are continously spotting Banded Rail at the beginning of the track. No doubt they will have benefited from our efforts. The Trust is keen to place additional traps to increase their protection.
No South Island Robins seem to have made it across to the mainland yet, keep looking! They seem to breed well on Adele Island, several unbanded birds have been spotted there. Doc plans to release a small batch of birds in winter from a different gene pool and we will have the pleasure to be involved !
A recent Gecko and Skink survey on Adele has confirmed that Geckos and Skinks have only just survived on the island. Two species of each were spotted over four days and some of our volunteers and trust members did help surveying. The Birdsong Trust is considering on how to increase their population since the Island is now predator free.
Other News.
There is a small trickle of new volunteers joining us, which is great to see. We now have about 20 active volunteers and a mailing list of 35. Many thanks to the volunteers who have been continuously at the ready during the last months.
The Wildling Pine Investigation into the eradication of wildling pines in the Abel Tasman National Park had been completed. The Birdsong Trust is moving towards securing funding for this project and to have appropriate support from the community to enable it to undertake the work. Watch this space !
Eradication of the the Australian hardwood Hakea on Adele Island has been considered but no plan has evolved yet. Previously conservation project students and Doc have pulled seedlings and cut down trees. Some Birdsong volunteers are keen to go ashore from time to time in Winter and push back the Hakea (and watch South Island Robins during breaks).
The Pitt Head Restoration Project is on track and lots of us will be needed to mainly check traps and plant a few more trees during winter. Associated with that is the tunnel tracking campaign from Akersten to Boundary Bay, which has been running for a year now. It investigates the density of predators in that area. Footprint tunnels will be checked every six months and its due again next month. This is great opportunity for fit volunteers to get off the beaten track !
And finally, up to Jan 31. 2011 we have caught 264 rats, 44 stoats, 3 mice, (and 24 possums in three months).
---
Update 23rd October 2010
Community participation manifest in high spirits and energy last Sunday when about 20 Abel Tasman Birdsong Trust volunteers joined staff of the Department of Conservation (DoC) to plant native rata trees around the Pitt Head Loop track in the Abel Tasman National Park, to mark the start of Conservation Week. Most of the trees were northern rata, their crimson flowers once commonly seen during summer along the Abel Tasman Park's coastline.
'Project Crimson', a National Trust which aims to re-establish pohutukawa and rata in their natural habitat, donated the trees for this purpose in the Abel Tasman Park. Wilson's Abel Tasman provided transport for volunteers from the community, DoC and commercial operators to travel from Kaiteriteri to Te Pukatea Bay in the morning and Sea Shuttle provided transport for the return journey. Volunteers carried plants, tools, stakes and wire netting up to the site at Pitt Head between Te Pukatea Bay and Anchorage, where members of local iwi, Ngati Rarua and Te Ati Awa blessed the planting. Planting teams included all ages from 4 to 70 plus years and some fanned out around the Pitt Head cliff edges to dig holes and plant trees while others followed to drive in stakes and construct predator-proof wire netting cages around each tree.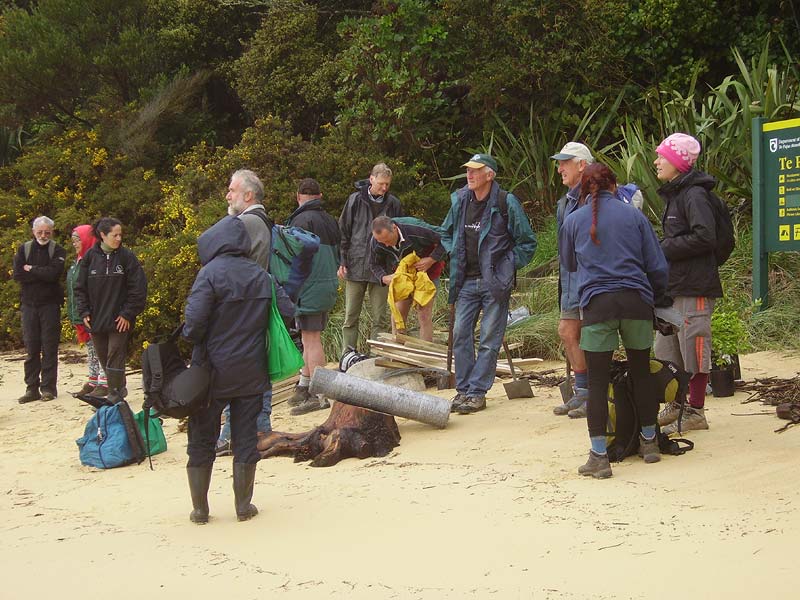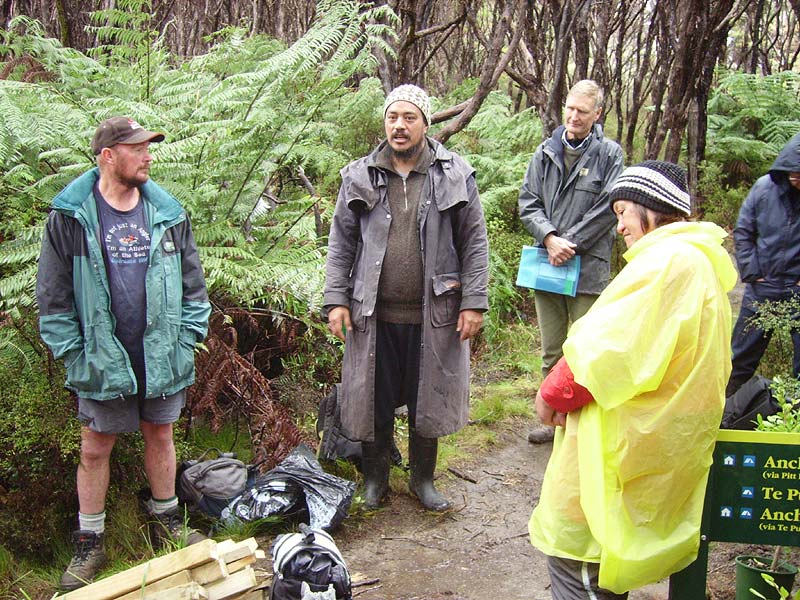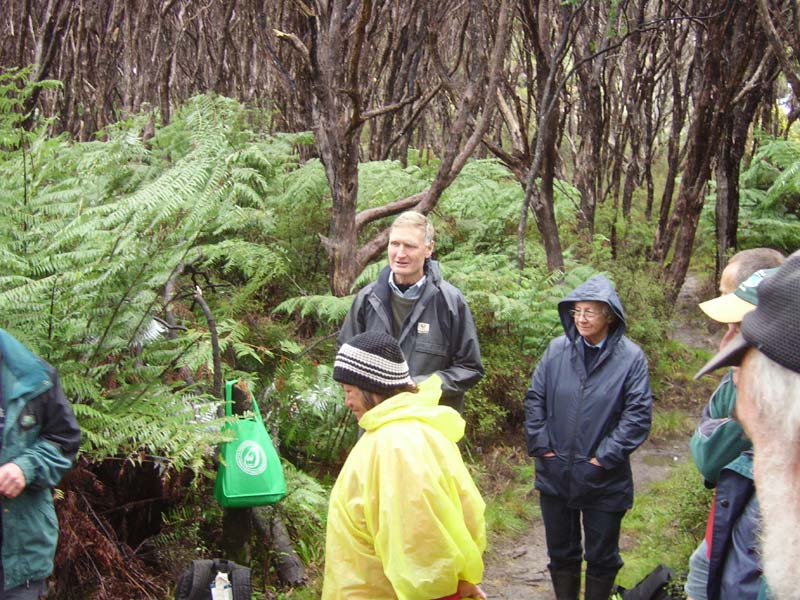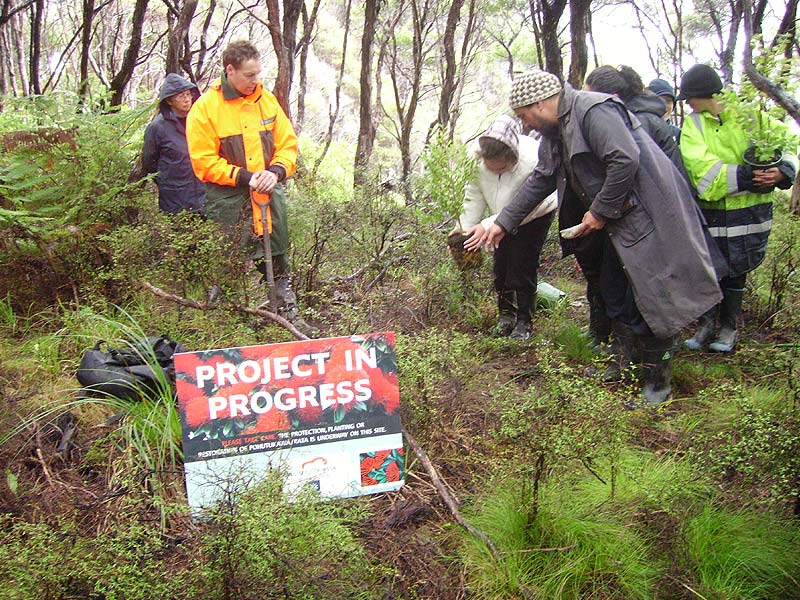 Abel Tasman Birdsong Trust Chairman Kim McGlashen thanked Motueka-based DoC staff and the many volunteers who assist the Trust to achieve their aim of restoring birdsong to the Park. By successfully establishing Adele Island as a predator-free bird sanctuary, by reducing predator numbers on the mainland and by improving the forest environment, birds will multiply and move back onto the mainland. Pitt Head was selected as an ideal location to establish a 'land island' surrounded by lines of predator traps, and sufficiently close to Adele Island to make this happen. In addition to its visual impact when flowering, rata will help restore diversity among native flora, enhancing natural food sources for native birds and thereby encouraging their breeding. This is already apparent among native robins released on Adele Island in May last year and found to be flourishing.
---
Update from Volunteer Coordinator Tom Horn
Dear Birdsong Volunteers,
So far us volunteers have done a fine job to maintain the Stoatline every two weeks consistently. The number of rats and Stoats killed speak for themselves. We killed 210 rats and 32 Stoats up to the end of June. Our efforts are crucial to ensure that Adele and Fisherman's Island stay free of predators . Both islands are now officially Bird Sanctuaries and Adele is now being used by several Kiwi Recovery Trusts.
I am sure that the bird population along the trap line including the Little Blue Penguin is now better protected as well.
With our present size we could take on a few more traps, do some tunnel tracking or help planting trees, but anything beyond will require a bigger volunteer body. If you know of any other keen person wanting to help please let me know. Equally if any Volunteer does have any ideas on how to boost any of the aspects of biodiversity within the Birdsong area please contact any Trustee directly.
The Tunnel Tracking Project between Akersten Bay and Torrent Bay will carry on in September. We will need two teams of two who can commit for three days. Most lines go through fairly rugged off track terrain and are 'a lot fun'. Once we know the date I will check if some of the fitter ones are available to help. The objective is to have a better idea on how dense the Rat and Stoat population in that area is and how best to tackle it.
Birdsong Trust has been in contact with Project Crimson and we now have 50 Northern Rata trees (which were common in our area once), planted at Awaroa in June and a further 50 Northern Rata be planted in the Pitt Head area. The Birdsong trust has bought additional trees to make the planting effort more worthwhile. This is part of the drive to increase biodiversity in that area. All trees will be protected against browsing animals. This is happening on the 12. September and any Volunteer keen to plant can email the secretary info@abeltasmanbirdsong.co.nz to register.
And finally a bit closer at hand, our present Stoatline will get a tune up, some traps will be relocated and a Possum Trap will be added to each trap site, in order to have a go at that browser and opportunist. It has been mentioned that our line might get extended to Watering Cove and from there around the headland which leads to Te Pukatea Bay. This would certainly require more volunteers and the good news is that more people are going to join.
That is all for now, and in the meantime : 'happy trapping' !
If you wish to contact me please ring on 5278200 or email on ingridandtom@gmail.com