2012 - 2013 News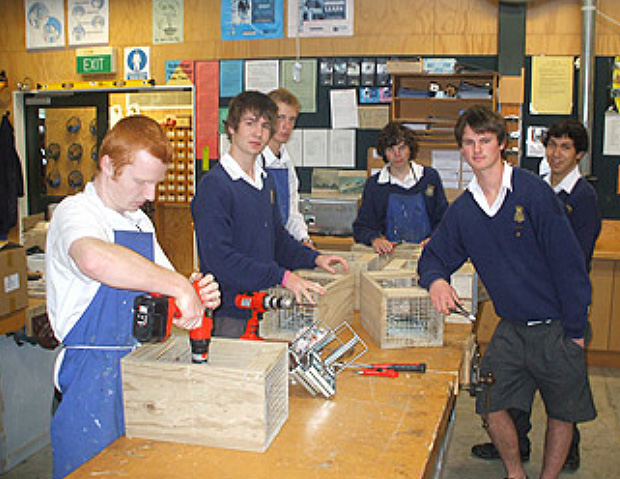 Students at a Tararua College in the North Island, making stoat traps for a local project (taken from Trapping Report April-May 2013)
---

See the Motueka-Golden Bay News website page
---
Trapping goes Hi Tech in the Abel Tasman National Park
Document added 19th November 2012
What was it that they used to say about a better mouse trap? This may not be a mouse trap but it will sure stir the stoats and rats up. A brilliant collaboration between some kiwi industrial design graduates and the Department of Conservation has created a new tool for the conservationist. The Goodnature A24 resetting stoat and rat trap is a new weapon in the fight against these pests and this month 200 of them are being deployed in the Abel Tasman National Park.
The Park presented a particular challenge to the trap designers because of the success of work to restore the weka population. These birds are about as inquisitive as they come, and persistent too, so the trap had to be "weka proofed". The traps being installed in the Park this month are the first commercial application of the weka excluder.
Powered by a compressed air cartridge each trap can reset itself 24 times. This combined with a long life bait or lure, significantly reduces the number of times the trap must be checked in a year. Abel Tasman Birdsong Trust volunteer Allan Barker also likes the compact, light weight design meaning many more traps can be put in place in a working day. Birdsong Trust volunteers have spent many hours establishing the network of traps that are intended to allow South Island robin to flourish again on Pitt Head.
This latest trap installation is part of a comprehensive programme of pest control being implemented across the Abel Tasman National Park by Project Janszoon working with its partners the Birdsong Trust and DOC. Project Janszoon Director Devon McLean says new tools and techniques are needed if the challenges of large scale pest control are to be met and Project Janszoon is keen to deploy the best available technology.
For more information check out www.janszoon.org or contact the Project Janszoon Director on email devon@janszoon.org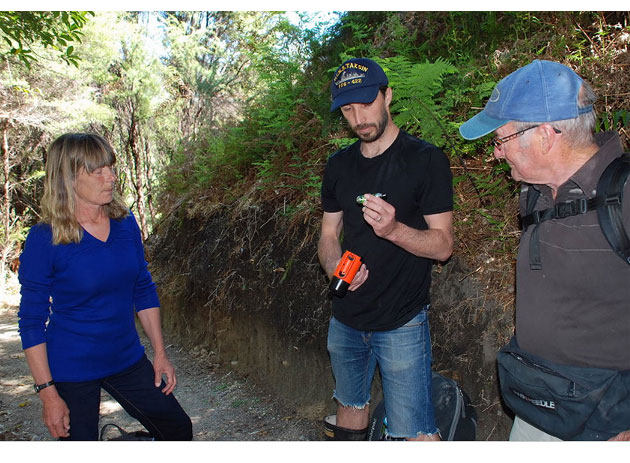 Stu Barr from Goodnature (centre) introduces Allan Barker and Georgina Upson from the Abel Tasman Birdsong Trust to the A24 resetting stoat and rat trap

Project Janszoon Director Devon McLean gets personal with the business end of the installed trap.
---
Killing rats and stoats in Abel Tasman National Park — 2009–2012
Document added 17th September 2012
Enthusiastic volunteers working for the Abel Tasman Birdsong Trust have now been trapping stoats and rats along the coastline from Marahau north to Yellow Point in the southern end of Abel Tasman National Park from March 2009 up to the present day. The trap line contains 80 DOC–150 kill-traps spaced at 100 m intervals and permanently set in secure wooden boxes for stoats and rats. All traps are checked and cleared of any carcasses at two-weekly intervals. To date, 571 rats and 74 stoats have been killed during 84 trapping sessions.
Recently, the trapping programme has been expanded to include that of possums along part of the stoat and rat trap line and of additional stoats and rats about a local group of rare banded rail. These additional traps have led to the destruction of 75 possums and a further 69 rats, 16 stoats, 4 mice and 2 hedgehogs. A further expansion of the stoat and rat trapping programme is being developed on and south of Pitt Head to link up with the coastal trap line.
The primary purpose of the existing coastal trap line is to maintain stoats at low numbers along the coastline such that the likelihood of them swimming across to and recolonising Adele and Fisherman's Islands, cleared of both rats and stoats in 2007, is very low. The fact that no stoats have apparently returned, even though the distance involved is well within their swimming range, indicates that the trapping programme is meeting its primary objective. Any rats killed are a bonus arising from the stoat control programme, and the destruction of both species is beneficial for mainland coastal native bird populations.
The new trapping programme near Pitt Head will seek to reduce and maintain populations of both stoats and rats at very low levels long-term such that rates of predation of local bird populations will be reduced and enjoyment of this part of the Park enhanced for the many folk visiting it.
The number of stoats trapped has varied from 1–12 and the number of rats trapped from 19–67 over all trapping seasons between March 2009 and July 2012. Captures of rats were lowest in summer each year and climbed sharply to peak in autumn (Fig. 1). In contrast, captures of stoats were lowest in spring each year and then climbed sharply to peak each summer with the entry into the population of the year's crop of young stoats (Fig.2). The catch of both species does not, however, show any overall decline in numbers over the 3.5 years of the trapping programme.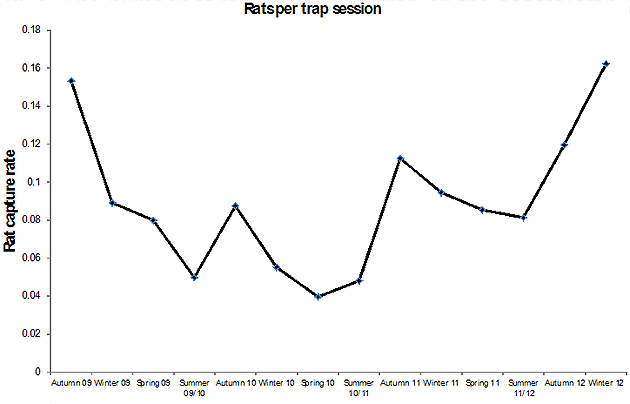 Fig. 1. The number of rats caught per trap on the coastal trap line over 14 seasons.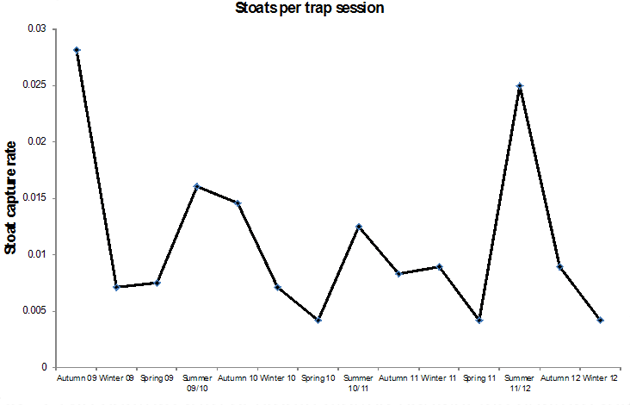 Fig. 2. The number of stoats caught per trap on the coastal trap line over 14 seasons.
While the number of stoats caught may seem modest, it must be remembered that stoats usually occur at quite low densities and have home ranges of 200–300 hectares. However, their great mobility and high 'trappability' makes it likely that most local stoats will encounter and be killed in our traps sooner or later. Thus, even the modest catch rates recorded (compared to that of rats) has a significant dampening effect on the populations of both residents or immigrant stoats.
Not surprisingly, there is a strong relationship between the numbers of rats and stoats trapped (Fig 3). That is to say, when the data for rat catch is 'lagged' by one season, low rat catches are reflected in low stoat catches, indicating that the numbers of rats present are, at least in part, held in check by the numbers of stoats present. Such a relationship has also been revealed in other trapping programmes of these species.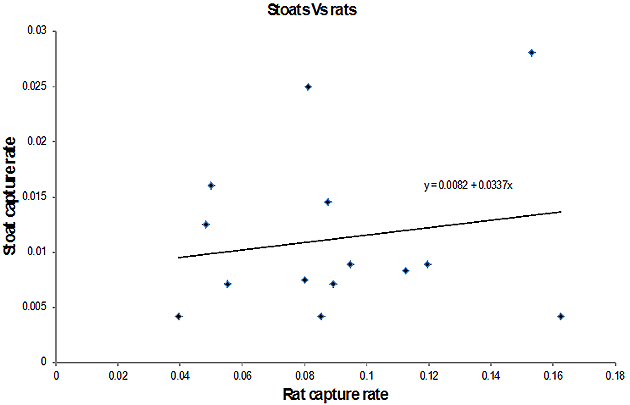 Fig. 3.The capture rate of stoats plotted against the capture rate of rats on the coastal trap line.
While the trapping data does not show any real decline along the coastline of Abel Tasman National Park in either the numbers of stoats or of rats, the case for continuing the trapping programme is as valid at present as it was when the programme started.
---
Update from Volunteer Coordinator Tom Horn

Document added 16th August 2012
Dear Volunteers,
The month of September is shaping up as one of the busiest we've ever had.
As most of you will already know, there are several extra projects which have come up and we will need to fit them in while maintaining our Stoatline. It is a great opportunity to be able to do different conservation work apart from checking traps every two weeks.
The four tasks are: setting up lines and traps on what will become Pitt Head 'Mainland Island'. Bird Count between Tinline Bay and Anchorage. Monitoring Adele Island. Maintenance, and fine tuning of the Stoat Line. Your response to the first two has been fantastic. More volunteers than needed raised their hands to do the Bird Count and we now have enough volunteers to form two or three teams to tackle Pitt Head.
Stoat line maintenance and Adele Island monitoring are the 'easy ones' to do. The Stoat line needs the 'once yearly thorough going' over which has not really happened so far. We can do this in early October. It will involve one senior volunteer plus me, for I guess about two days.
Adele Island needs checking every three months and will be due in early October. It will take two volunteers one day to do the circuit and check all traps plus a few extra bits and pieces.
After some stalling the Pitt Head project received a major boost recently. The newly established Janszoon Trust is funding about 200 traps, and all other hardware plus contractor time to establish permanent lines right across the headland. The area is about 100ha. large, its boundary is the track between Watering Cove and Anchorage. Contractors will move in soon to provisionally mark the lines. Our job then will be to mark the lines permanently and mount traps every 50 meters. The target species we want get down to very low levels within this area are stoats and rats, the traps we will use are the stoat and rat version of the 'Henry Good Nature self setting traps'. Extra possum traps will be part of the picture as well. Allan Barker is the Project Manager for setting up the necessary infra structure.
The reason for establishing Bird Counts is to measure the effect of our efforts. We want to find out if Birdlife is responding to the trapping. That means the 10 km section of Coastal Track between Tinline Bay and Anchorage will be walked ten times each year in September and the presence or absence of certain native Bird species recorded every 100 metres. Ornithologist Peter Gaze will be guiding this work.
As mentioned before all this will happen while we keep checking our Stoatline.
This means that Birdsong Trust is moving ahead strongly to restore Birdlife at our end of the Abel Tasman. Not much of the above can be achieved without us the volunteers so for Sepember : ALL HANDS ON DECK !
Cheers Tom
---
'Closed for Good' Volunteers Have a Blast in the Park

Document added 11th May 2012
With funding from the Pacific Development and Conservation Trust (PDCT) and under the professional oversight of DoC staff in Motueka, another Birdsong Trust project for ecological restoration along the coastal track began at the Tinline camping area on Tuesday 8 May, 2012. Project coordinator Sandy Stephens said DoC did all the site preparation around Tinline the previous day, provided tools and equipment and supervised the planting on Tuesday.
Under the BNZ's 'Closed for Good' community volunteering day three volunteers from Motueka's Bank of New Zealand and six from Nelson's Cawthron Institute turned up dressed for work and ready to dig, plant and cage 300-odd native trees already delivered to the camp site. Working mainly behind a dense gorse margin around the Tinline clearing, volunteers were glad of their protective clothing and reassurance during their safety briefing that DoC's well-stocked first aid kit was on hand.
Volunteers built cages on site to prevent deer and possum browse while others set to digging and planting specimen trees of beech, northern rata, milk tree and titoki. Pending availability of more fire-resistant and eco-sourced broadleaf trees, spaces were filled with 250 kanuka, akeake and ngaio which, like beech, need no cage protection.
Rain threatened to dampen spirits but held off until the last trees were in the ground and the band of happy volunteers headed back to Marahau with Sandy and their new DoC friends Rudy Tetteroo, Ross Maley and Roger Gaskell. As a light drizzle turned to rain they said they'd 'had a blast and would be back for more'. Right on cue as the volunteers' vehicles pulled out of the Marahau car park, nature's irrigation system switched on and the new trees got a thorough overnight drenching. In a few years the site should be much more attractive to both human visitors and hungry birds.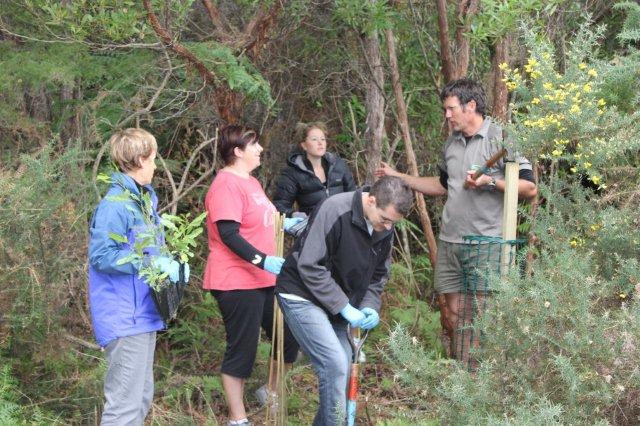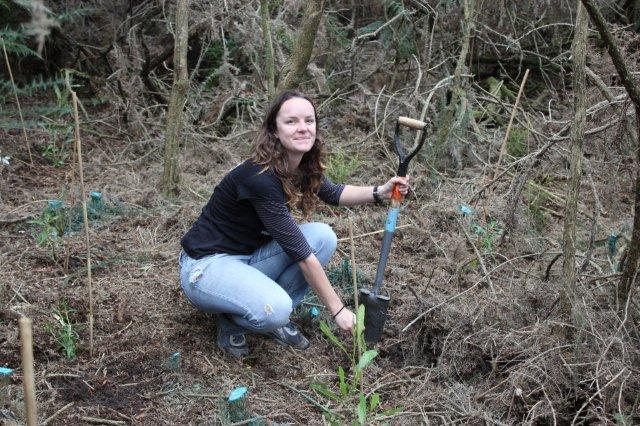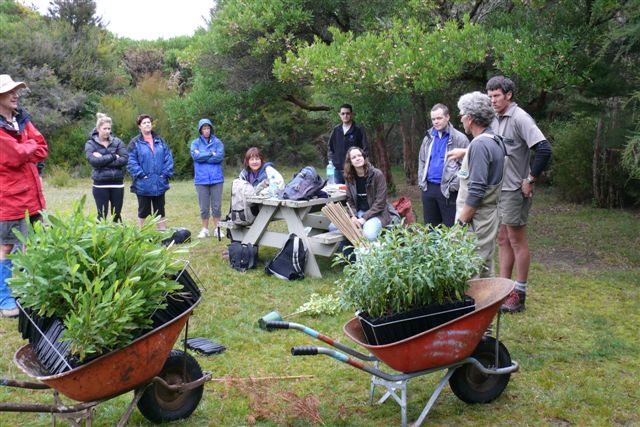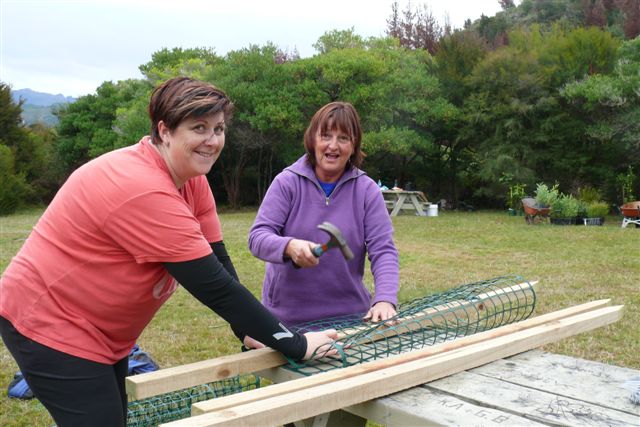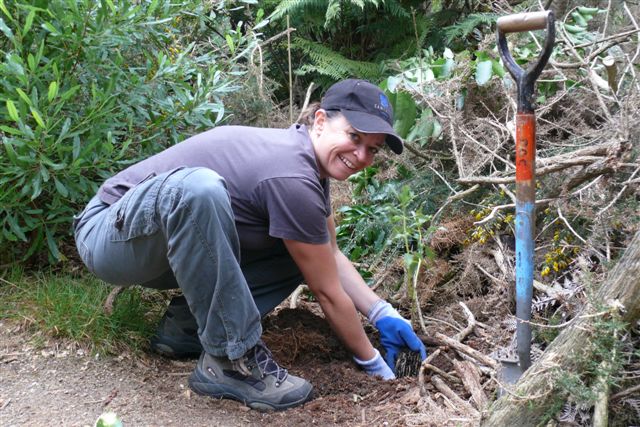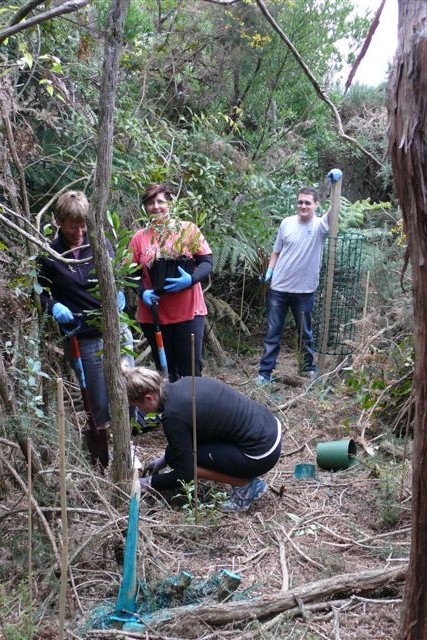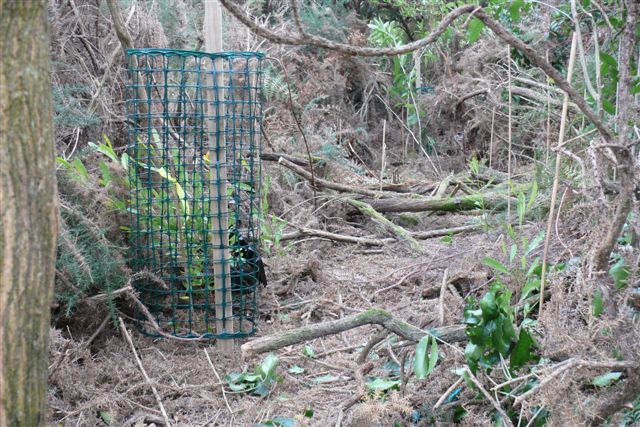 ---
WILDING PINE CONTROL IN THE ABEL TASMAN NATIONAL PARK
Progress Report by Kim McGlashen for the Abel Tasman Birdsong Trust
Document added 6th April 2012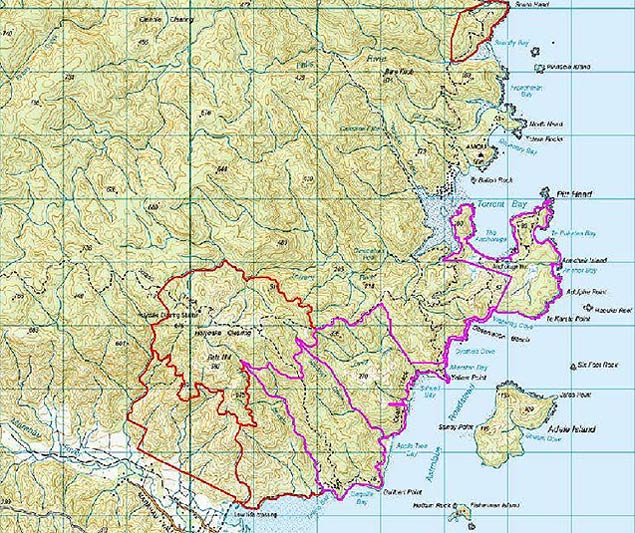 Figure 1: Overview of the areas treated in 2011-12 (red) and those areas planned for control in 2012-13 (pink).
BACKGROUND
The spread of wilding pines has been recognized for some years as an invasion of an un-welcome weed species in the Abel Tasman National Park that threatens to take over the iconic landscape. After viewing the success of control methods used by the Marlborough Sounds Restoration Trust the Abel Tasman Birdsong Trust was confident that a similar successful program of eradication could be adapted for the ATNP.
The Birdsong Trust engaged consultant Andrew Macalister to prepare and cost a management plan. From its own funds and private contributions together with substantial financial support from the Lotteries Grants Board the Birdsong Trust has completed year 1 of a four year program to eradicate both seedling and seeding pines from the coastal areas of the Park from Marahau to Totaranui. Further in-kind support will be contributed by the Department of Conservation in May 2012 for the manual clearing of pines from the coastal track areas.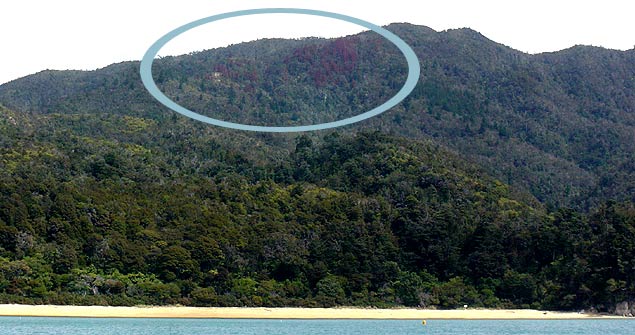 Treated wilding pines on the high ground as seen from Anchorage in Torrent Bay, March 2012.
The target species has been a mixture of Pinus Radiata and Pinus Pinaster. The method has been to employ suitably qualified contractors to individually drill holes at the base of trees and inject a dose of herbicides glyphosate or metsulfuron according to species. Smaller seedlings have been cut at ground level. Research work elsewhere suggest that letting the tree decay in situ provides the best light conditions for re-colonisation by the native understory while minimising the germination of any seeds lying dormant in the immediate area.
The colourful results are graphically shown in the following photographs – courtesy of Andrew Macalister of Leviathan Consulting who has overseen the project.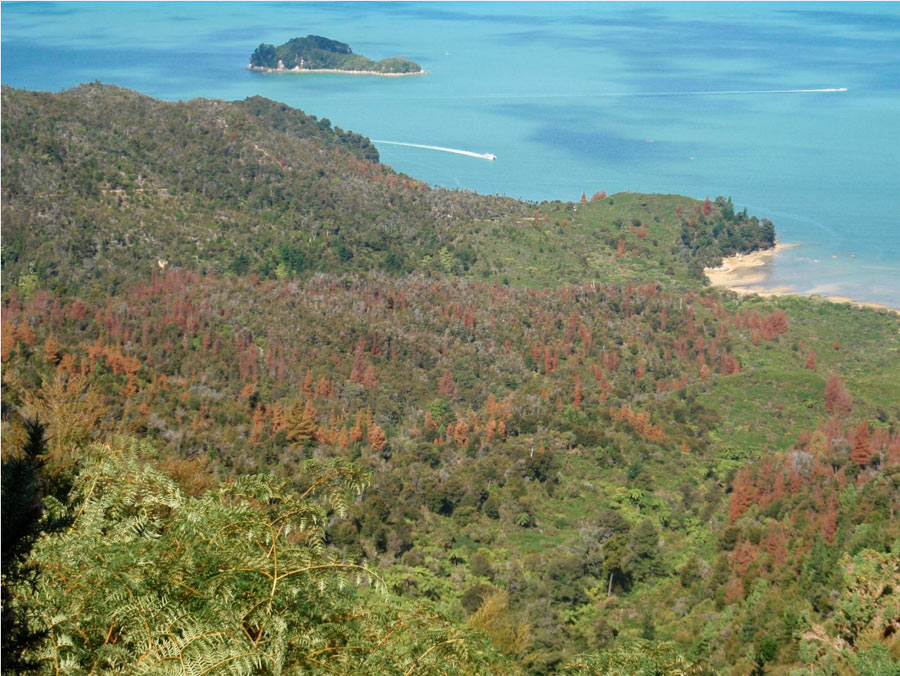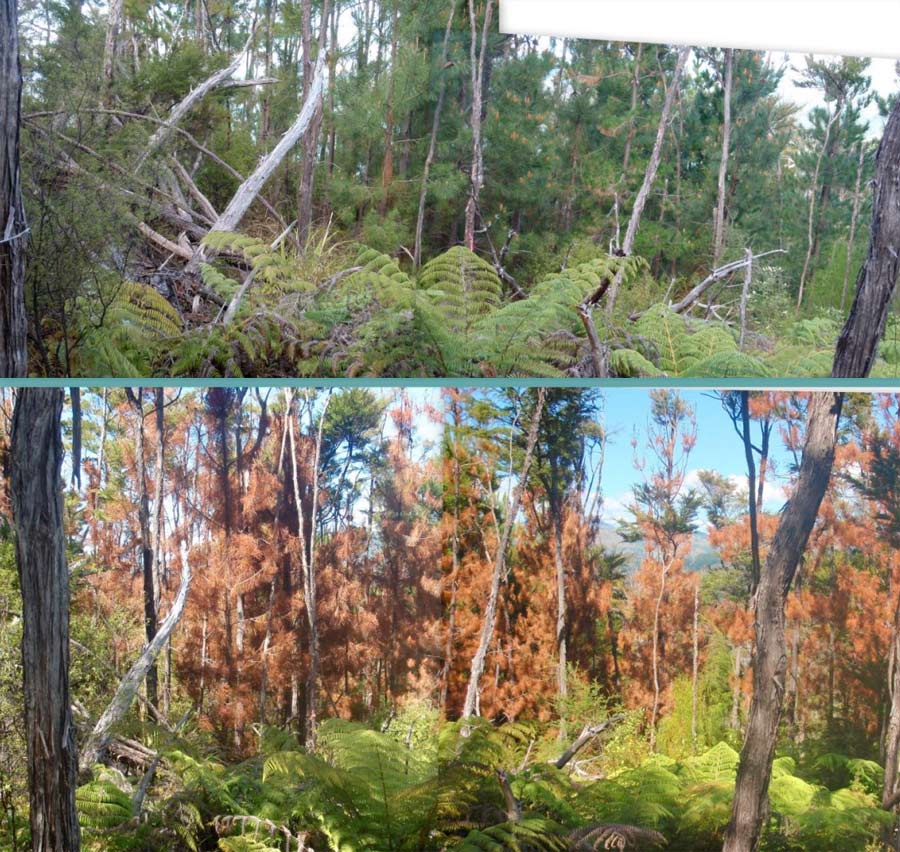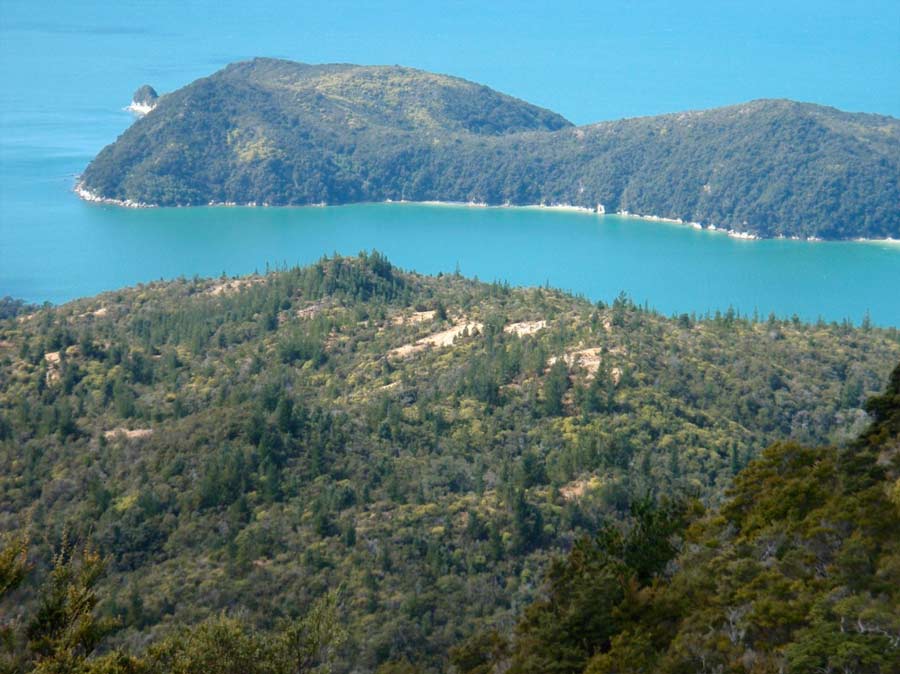 The trustees are pleased to report that the initial area targeted has been covered and the initial budgets have been met. We are in the process of securing further funding for year two of the program which will be the largest annual budget of the four year program of eradication.
From the photographs above the spread of pines across some of the more exposed granite soils of the Park is self evident. It is very important to halt the seeding cycle that begins when the trees mature at about 8 years old.