2014 News
---
TV3 Report: Endangered saddleback thrown a lifeline
Document added 26th September 2014
---
Poisoning team battle to kill pines
(Nelson Mail / The Leader - click link or image to read document online)

Document added 11th August 2014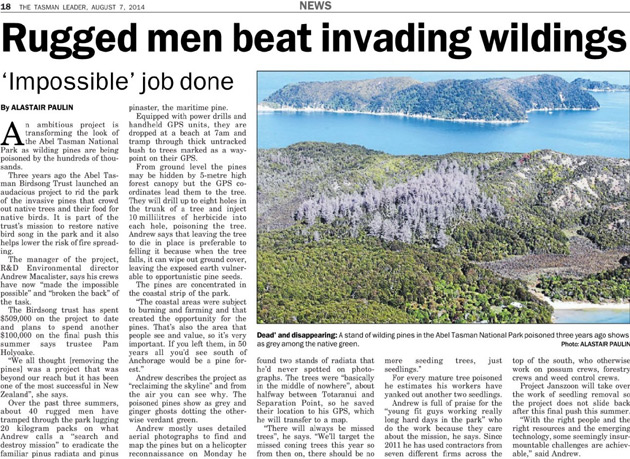 ---
June Update and Trapping News
Added 23rd June 2014
Birds are back at Marahau!
There have been regular sightings of the three Keas around Marahau although they seem to be roosting elsewhere. A weka has also been seen daily and calls of another were heard up the valley. While walking across the causeway, Tom came across a birdwatcher/photographer who had seen 11 individual banded rail on the Marahau mudflats early last summer. This means that the banded rail population may be much bigger than the 3 or 4 birds he has seen regularly. Perhaps our M-line is having a positive effect!
The Pitt Head Project
Two Allans and John spent a couple of days on the monthly trap check three weeks ago. Most self setting stoat traps have been modified and are now working well. The exciting news from the first of three tunnel tracking results gives a clear indicator of the success of the trapping. The result of 7 per cent compared to 17% at the same time last year and 40% outside the similar control area. If the checks in July and December stay at 7 percent or below, the Birdsong Trust will get the green light to transfer South Island robins from Adele Island!
Allan and his team are planning a maintenance run this Wednesday weather permitting and the next monthly check will be on Monday.
Adele Island
Allan confirms that the Island is predator free and the next check is due soon. Project Janszoon, DoC and two Birdsong volunteers were involved in the planting of black beech on the ridges of the island, to see how they will compete with the Hakea.
Tree planting project
The Birdsong Trust's four-year tree planting project between Tinline and Marahau was completed during this past week. Thanks to Eric McP, Beryce V, David and Lynn S, Roger W and Dave, Dave W, and four Nelson Rotarians – Gary C. Mike N, Roger S and friend - as well as DoC Motueka staff who had cleared planting sites, transported trees to sites and worked along with the volunteers.
Thanks also to Sandy for this overseeing this project and co-ordinating volunteers for planting. The trees will provide additional food sources for the birds and will beautify degraded areas along the foreshore and track. The Birdsong Trust is very grateful to the Pacific Development and Conservation Trust for funding the cost of trees and protective cage materials for this project.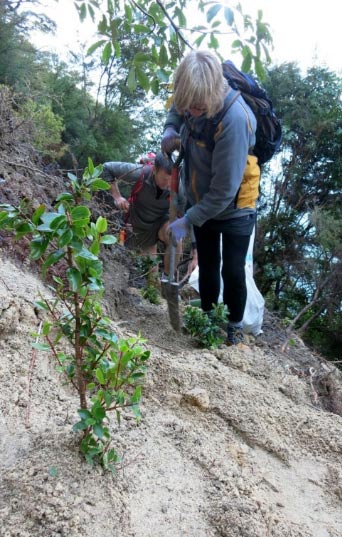 Planting rata on Adele Island
A few more beech trees will be planted on Adele Island in August. Anyone with climbing skills and the energy to help with this should email Sandy at sandy.stephens@clear.net.nz
Trap line extension
Our mainland trap line is about to reach the Torrent Bay River Bridge. Eric, Georgina, Tom, Lucy and her 11 year old nephew Jack who was very competent on the GPS. Georgina and Tom finished this job on Thursday. Trap 80 was formerly our northern limit - now its Trap 127!
Allan B. is busy building another 50 traps for deployment from Cythia to Watering Cove, covering all sidetracks between the Torrent Bay bridge and Anchorage Hut as well. This will create two more biggish sections for our two weekly checking roster. It will take a full day for any of the two new sections, with about 50 traps each and volunteers will require transport by water taxi. There are no possum traps yet but the location of the traps are easier than on some of the other sections. Many thanks to Phil at DoC, for getting all those traps up the hill for us!
Safety
We are all required to wear our Hi-Vis Birdsong vests both on and off track, since Hunters might be present. Please wear the vests on your water taxi and even when walking to and from trap lines, to raise our profile with the public. If you injure yourself while on the job, had a 'near miss' while handling traps or fell in steep terrain, please let Tom know. He is required to file an incident report so that we learn from the incident, and to demonstrate that we take safety seriously.
Meeting / Social
On Sunday, August the 10th we invite all Birdsong Volunteers, Trustees and all supporters for the Annual Birdsong Afternoon Tea ! Mark it on your calendar now. Details will emerge later. The team responsible for the two trapping checks which yielded 32 rats 3 possums, 1 stoat and 1 hedgehog were Beryce and Don, Eric and Esther, Robert, Tom, Andrew and Elaine, and Paul. Many thanks to Seashuttle and Aquataxi who between them got more than ten volunteers on location.
---
Saturday 14 June
Document added 16th June 2014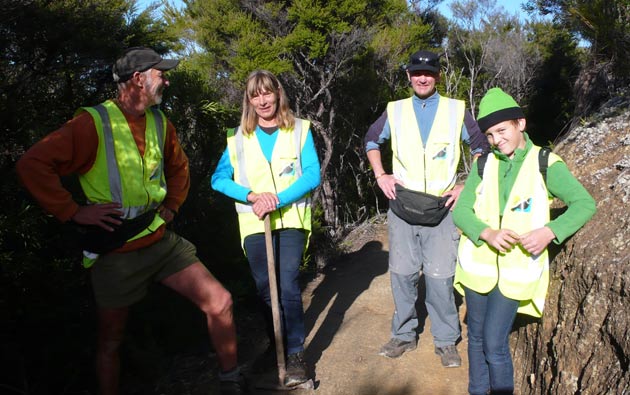 Tom Horn, co-ordinator of the intrepid band of Birdsong Trust volunteers, is leading the team to extend our Mainland Trap Line from the Astrolabe Roadstead to Torrent Bay River Bridge. This weekend (Saturday 14 June) Tom and his team set most of the traps with help from DoC Hut Warden, Phil, getting traps up the hill from Anchorage. By Thursday, the job will be finished, extending the northern limit of the trap line from #80 to #127. Latest member to join the volunteers is 11-year-old Jack Wilson, grandson of the co-founders of one of the Park's first tourism operations, Wilsons Abel Tasman.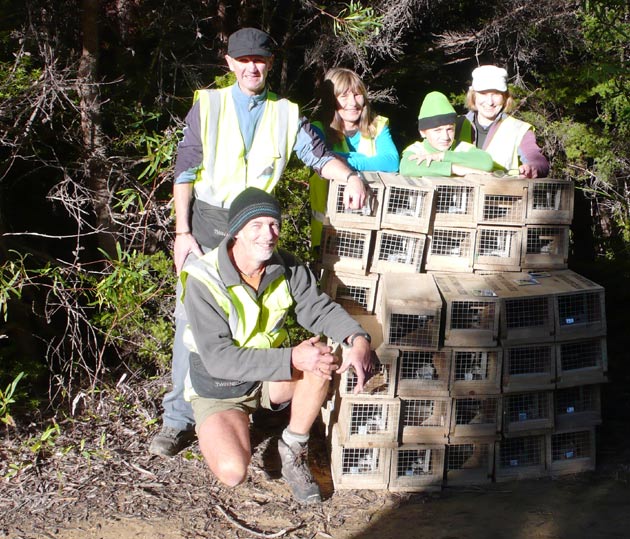 ---
Trapping Report March-April-May 2014

Document added 26th May 2014
A big bag of autumn rats!
Extreme weather this autumn has played havoc in the Park with some traps swept down streams or caught by high tides. Beach walkers retrieved a couple that had floated out to sea and found their way back to a nearby beach. These were returned to the Trust. Others haven't been seen since. A lesson learned from this? Yes! Put a number and Birdsong logos on all trap boxes; chain traps that are placed under bridges.
Many thanks to Georgina, Jason, Peter, Beryce, Al, Leena, Dave, and Paul who removed 14 dead rats from their traps in their checks on 29 March and 12 April. Aurora, Peter and Moppy, Tom, Beryce and Don, Jim and Janet, Paul, Laine and Andrew reported another 16 rats in their traps checks on 29 April and 10 May. These bring the running total to 1150 rats, 131 stoats, 93 possums, 20 mice, 5 hedgehogs, 1 quail.
New volunteers joined our team
We have three new volunteers, all involved with conservation work in the past. They are Laine and Andrew Harding and Don Pittham. While living on their yacht Leeway, Elaine and Andrew have volunteered to carry out checks to ensure the predator free status of Fishermans Island.
Laine and Andrew reported that the South Island Robin had migrated from Adele to Fishermans Island last year, which is great news. Unrelated to that: three Kea have taken up residence in Marahau since April and Tom recently counted 14 Tui on one small tree near the Abel Tasman Track entrance. Unfortunately the 4 Banded Rails have not been spotted for a couple of months.
Our newcomers mean we now have 36 active volunteers - way more resources than currently needed which is very timely, since the extension of our  trapline is about to take off. Allan and Tom have marked a off track trapline between Cythea Cove and Watering Cove and about 18 sites are ready to receive traps. Many thanks again to John and Debbie who surveyed this line in February - that made the job a lot easier.
Allan Barker is about to build 80 new stoat boxes for deployment from our presently furthest trap station #80, all the way to Anchorage and Cleopatra's Pool. This will add 80 stoat traps to our current 99, in turn extending another two big sections to our roster. This extension would not be possible without the support of Aquataxi, Seashuttle and Wilsons providing sea transport to volunteers. Many thanks to them!
Adele and Fishermans Islands
Adele Island has been checked again and there were no predators present. At the Pitt Head project, all 200 trapping sites are operational with modified and improved Good Nature traps. DOC is about to run tracking tunnel surveys to establish current predator density. If density is sufficiently low, South Island robins will be transferred from Adele and released on Pitt Head as previously reported.
---
News Update February 2014

Document added 4th February 2014
We are up to date with the activities of our mainland predator line. Here's a brief catch up on what else has been going on in the trapping effort of the Birdsong Trust
Coastal Trap - line.
We have started on extending the line all the way to Cleopatra's Pool. Allan Barker with a small team of volunteers has checked the TDC traps which are still in that area. Most of those traps are in poor condition since they are not made of stainless steel. However they have been baited and reset, and only one possum has been caught so far. The next stage is to bring that section to the same high standard of our trap line which means more trap sites will need to be marked, new traps which we have funding for, built and placed.
John and Debbie have started to mark and establish a new (off track) line from Cythea Cove to Observation Beach and from there to Watering Cove . The coastal track veers a long way inland from Cythea Cove and running a new line in this area plugs a big gap.
We hope to finish the extension to Cleopatra's Pool and the Watering Cove line in a few months. That of course means that we are adding one or two new sections to our currently four and more volunteers are needed to service the new traps which will have possum and stoat traps. I think that we can handle the extensions. We have about 22 active volunteers ( some are unstoppable ! ) and about 10 which are semi active.
Allan and Robyn did a service check on Traps one to 40 including the M line and T line. A 100 gram weight was used to test fire the stoat traps.
Allan's observations are :
1) Make sure the swing arm is set correctly against the sear on the bottom plate. The trap setting tool can mis-align the trap when used with too much force.
2) The entrance needs to be clear of any obstacles for about 40 cm.
3) When replacing old bait discard the old bait completely and if the trap is dirty please use the scraper once trap is secured with the safety catch.
This a gentle reminder for all of us in the field to stay sharp. While we are on this subject we had no reports of accidents or near misses last year, which is great given how many of us are out there every two weeks. If there is something worth reporting however, please let me know as part of our safety plan.
As you know we have been catching many stoats lately. The feedback from the professionals is that we are catching the less suspicious but curious youngsters rather than the older, wiser stoats!
Pitt Head trapping
The 200 self-setting good nature traps have their problems. 142 have been taken out due to leaking gas canisters. They have been fixed and will be returned next week and need to be checked every four weeks for now. If there is anybody out there with spare energy to help Allan and his crew or wants get involved with extending the coastal line please let Allan or me know !
Adele Island
Adele is safe once more. The last trap check in December revealed no signs of predators and the bird and insect population is thriving.
The next check is due about now.
Wilding Pine Project
Apart from maintaining the coastal trap line and keeping Adele and Fisherman's Island free of predators the elimination of wilding pine trees has been the biggest project The Birdsong Trust has tackled. You can find the latest wilding pine report elsewhere on our website.
Tree Planting
Sandy Stephens is responsible for the Birdsong Planting effort and here is her report:
The last plantings were done in August and September 2013, with the very last being across the site of Gilberts old bach on 4 September. In all we planted 850 trees during 2013 including 50 rata on the cliff faces of Adele Island in August. Trees planted along the track to Tinline included Northern rata, milkwood, ngaio, pittosporum, manuka, kanuka and beech. Funding for the trees and materials for the cages came from the Pacific Conservation and Development Trust run by the Dept. of Internal Affairs – the money came to the NZ Govt. from the French Govt. as part of the compensation for the sinking of the Rainbow Warrior. Labour was all by volunteers and DoC provided site preparation, transport of the trees and materials, and overall planning and supervision.
Next year we'll complete the 4th year of planting with that funding.
---
Last Xmas Tree in the Park?

Document added 29th January 2014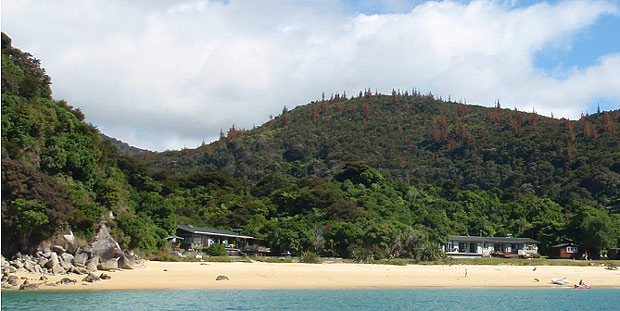 Many boaties and visitors on the waters of the Abel Tasman national park will have noticed the dead and dying wilding pines amongst the green canopy of native trees. The extent of the invasion of the pines into our most visited national park is now very colourfully visible and is the result of a concerted effort to eliminate further spread.
This year will be the third and final year of the wilding pine elimination program run by the Abel Tasman Birdsong Trust. The chairman of the trust, Kim McGlashen, praises the support of NZ Lotteries Grants Board, Canterbury Community Trust, Project Janszoon, Agronica and others to provide sufficient funding to sustain the program for the past three years. The work involves injecting the trees with chemical so suitably qualified contractors have been engaged to do it. Project coordinator, Andrew Macalister provides the logistical support to the teams and says that the terrain and vegetation is very challenging in the park so he applauds the efforts of the teams at the coalface.
The aim of the program, Andrew says, has been to eliminate all the coning trees and many of the undercover of saplings to break the replacement seeding cycle which happens when a pine tree reaches 7-8 years old. The program in total will cost approximately $500,000 but having broken the back of the problem future follow-up work every few years will not now be insurmountable.
The Abel Tasman Birdsong Trust has been operating in the Abel Tasman under licence from DOC for five years. It is financially supported by the major commercial operators and the regular trapping work is carried out by up to 30 enthusiastic volunteers. The pest control strategy has been to protect Adele Island as a pest free sanctuary for birds and this has been achieved by maintaining trap-lines along the coastal strip adjacent to the islands. Even in the most recent trap run in December coordinator Tom Horn reported that a further three stoats were caught.
The ultimate aim is to maintain lower pest populations of stoats, possums and rats on the mainland so that birdlife can recover. The Birdsong Trust coordinates its work jointly with Project Janszoon which is developing a much larger trapping program to manage predator control in the wider park area.
---
Abel Tasman Bird Monitoring
Summary of results for 2012 and 2013
Document added 27th January 2014
Introduction
The 2012 report on bird monitoring for Project Janszoon described the rationale and the methods used for this work. This report describes the results from the second year of monitoring and makes some comparisons between the two.
The 2012 monitoring was done at the three sites (Canaan, Marahau and Medlands) during September. Since then a decision was made to change the timing to November on the grounds that this would be a better month to detect mohua once they have been introduced. This year the Canaan work was split between the two months to provide some sort of correction factor for the data and both the lowland sites were done in November only.
This year the monitoring by Birdsong Trust on the Marahau - Torrent Bay transect was upgraded to include abundance as well as the coarser measurement of just presence/absence. While all the monitoring now records the number of each species detected on each 100m section of the transect this analysis uses only the presence/absence data.
In January 2013 stoat trapping commenced over 5000ha at Canaan. In due course this is expected to result in a greater abundance and more frequent encounters of some species. However this was not expected to be apparent in the current counts just 10 months later. At the other two sites management had not changed. The data from these two years of work will provide a strong base line against which future change can be measured.
Canaan
Five transects were done in September as a repeat of the 2012 work and five transects were done in November as an introduction to the new timing. The average frequency of occurrence for each of these three visits is provided in Fig 1. As this table gets a little cluttered the data is also provided.
It is helpful to look at the most common species first - those eight species which are always present. Bellbird and rifleman were encountered more often this year (in both months) but I am hesitant to attach any significance to this. If the count data also shows this trend it will best be attributed to factors other than management. Conversely, grey warbler were marginally less common this year - and the other two sites also showed this. Similarly with fantail - although not shown at the other sites and with brown creeper (although only present at Canaan). Both of these species will be interesting to watch next year to see whether these changes are just godd year/bad year fluctuations with these small insectivores. The data for tits is interesting; the 2012 and 2013 September counts are identical but there was a big increase in November 2013. This can only be attributed to the species being more vocal later in the season and provides good justification for doing the work in both months this year.
With the less common species, kereru was more common in November than in either of the September counts and shining cuckoo and long-tailed cuckoo were only ever recorded in November. This is clearly a seasonal effect. Weka were never recorded in 2012 but were quite evident in both months in 2013. This seemed like a real change and one which has been recorded anecdotally elsewhere in the park.
Fig 1. Frequency of Occurrence from Canaan bird monitoring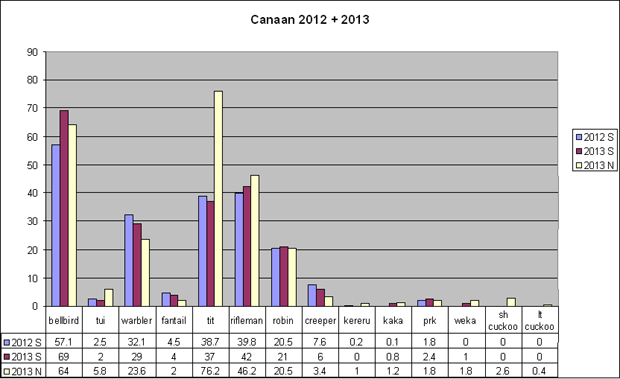 Marahau
This work was again done well by volunteers from Birdsong Trust. Particular thanks to Tom Horn and Ingrid Hutzler who have been the mainstays behind this. The transect was repeated seven times.
The results shown in Fig 2 are gratifying in their consistency for bellbird, tui and fantail. We didn't really expect a change and this consistency provides reassurance for both the technique and the quality of the field work. Grey warbler does show a decline - as it does in both other sites. Perhaps this can be attributed to the species being less vocal in November? It is interesting that kereru were present in this November count at Marahau as indeed they were at both other sites. Low numbers at each site but it is tempting to conclude that this very mobile species is finding something attractive in these forests that wasn't there a couple of months earlier.
Fig 2. Frequency of Occurrence from Marahau bird monitoring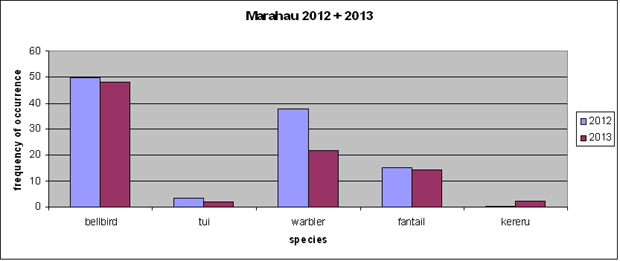 Medlands
I repeated this transect only five times as the data was so consistent from day to day. It is interesting to compare this data (Fig3) with that for Marahau as they are remarkably similar. The change in warbler abundance between years has been mentioned - and is likely to be a seasonal effect with the 2012 counts done two months earlier. Again, kereru and shining cuckoo being recorded occasionally in these later counts.
Fig 3. Frequency of Occurrence from Medlands bird monitoring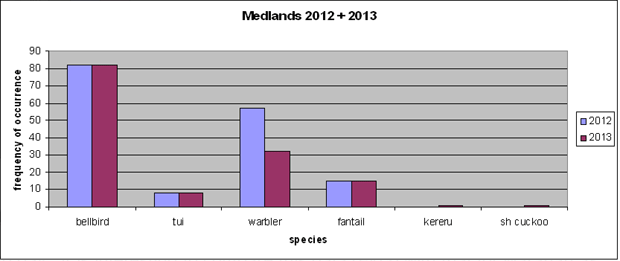 Conclusion
This work is providing a strong picture of the birdlife at all three sites prior to management. The potential remains to do a more telling analysis using the quantitative data and this will be most valuable once we start expecting change due to predator control.
Peter Gaze
January 2014